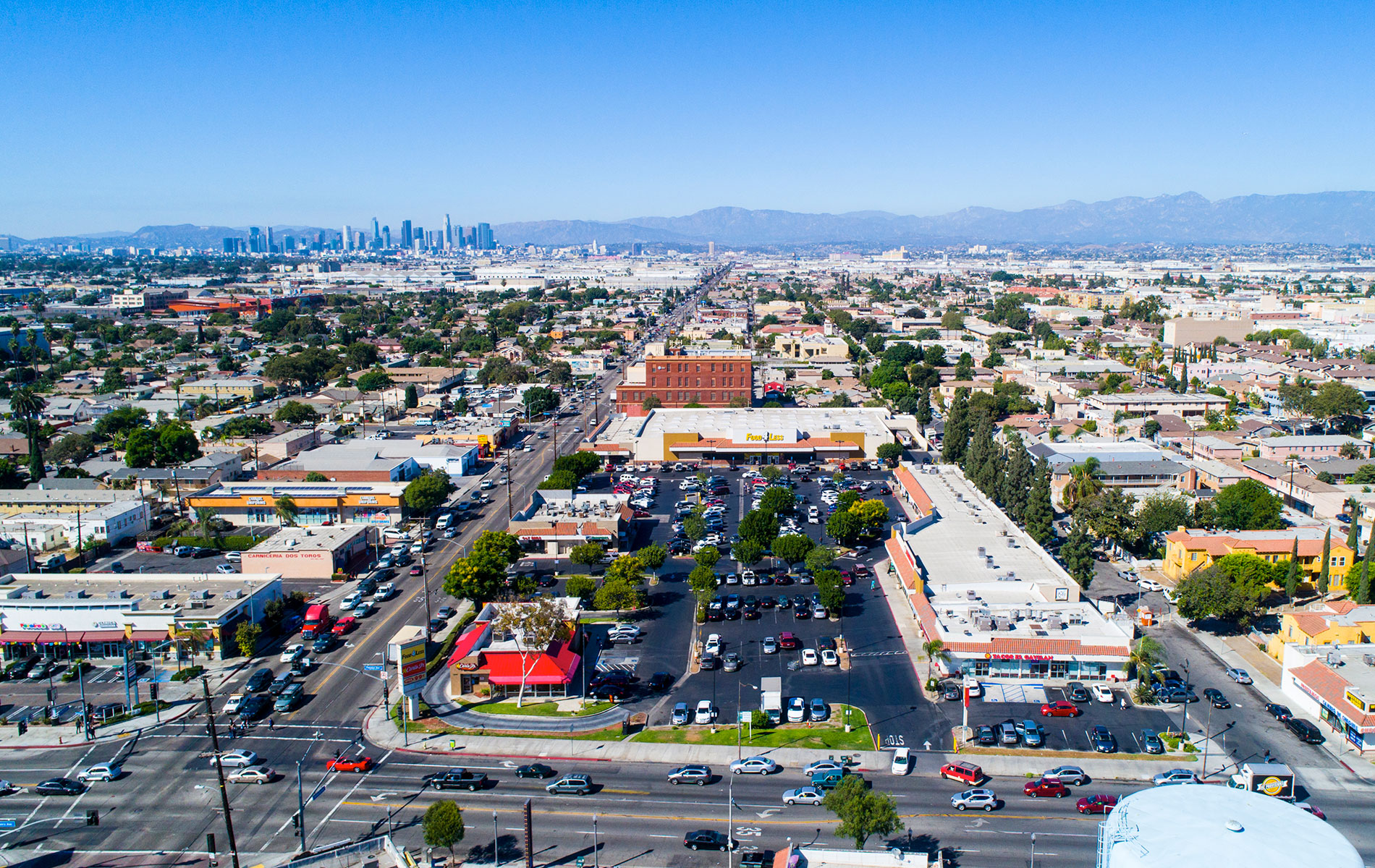 Press Release
Wednesday, September 12, 2018
Sterling Organization Acquires 76,797 SF Grocery-anchored Margarita Plaza in Los Angeles MSA for $23.75 Million
FOR IMMEDIATE RELEASE
September 12, 2018 – LOS ANGELES, CA – Sterling Organization, a vertically integrated private equity real estate investment firm, has announced the acquisition of Margarita Plaza, a grocery-anchored shopping center located at the northeast corner of Santa Fe Avenue and E. Florence Avenue in Huntington Park, approximately 4 miles from downtown Los Angeles. The property was purchased in an off-market transaction from private investors on behalf of Sterling Organization's institutional grocery-anchored shopping center core fund, Sterling United Properties I, LP ("SUP I"), for $23.75 million or $309 per square foot.
The 76,797-square-foot shopping center was built in 1989 and is anchored by a 43,350-square-foot Food 4 Less (Kroger) grocery store, which underwent a renovation in 2014. Other national retailers include Little Caesar's Pizza and Jackson Hewitt. The property is currently 93% occupied.
"Margarita Plaza has excellent real estate fundamentals and is situated in a super-dense location with more than 461,000 people within a 3-mile radius. Anchored by a market-leading grocer whose performance at this location is among the top in its region, we love the asset and its defensive position within a thriving and well-established, primarily Hispanic community," said Ed Senenman, Senior Managing Director of Investments and Portfolio Management for Sterling Organization.
"Recognition must go to Jon Mendis, who oversees our investment activities for our western division, for his diligent and long-term pursuit of this off-market opportunity," added Brian Kosoy, Managing Principal, President and CEO of Sterling Organization. "Through SUP I, we target stable shopping centers in major markets anchored by strong performing grocery stores that are part of a leading grocery chain. This asset fits perfectly, as Kroger is number one in terms of market share in the Los Angeles MSA and this Food 4 Less store — for lack of a better term — crushes it. We believe the asset is a great addition to our SUP I fund as we work to round out the fund's investments by year end."
Palm Beach, FL-based Sterling Organization, which opened an office in Los Angeles less than three years ago, has been quite active in the region recently. Today's transaction comes within a month of the firm's acquisition of shopping centers North Ranch Gateway in Westlake Village, CA, and Union Plaza in Phoenix, AZ. The firm made news earlier this year when it sold a property on Rodeo Drive in Beverly Hills for $55 million more than what they paid for it — and in less than 24 hours after acquiring it. Sterling now owns three properties in the Los Angeles MSA, seven properties in California and nine in the western United States.
From coast to coast, Sterling Organization and its principals own approximately 10 million square feet of retail and other commercial real estate approaching $2 billion in value.
# # #
About Sterling Organization
Sterling Organization is a vertically integrated private equity real estate firm that has an established track record of providing risk-adjusted returns to its partners, in both relative and absolute terms. The company's national platform is focused on investing in retail real estate assets across the risk spectrum in major markets within the United States on behalf of Sterling's principals in partnership with the highest quality institutional investors. Sterling Organization is headquartered in Palm Beach, FL.
Media Contact: Dana Verhelst, 561-868-2664 or dverhelst@sterlingorganization.com