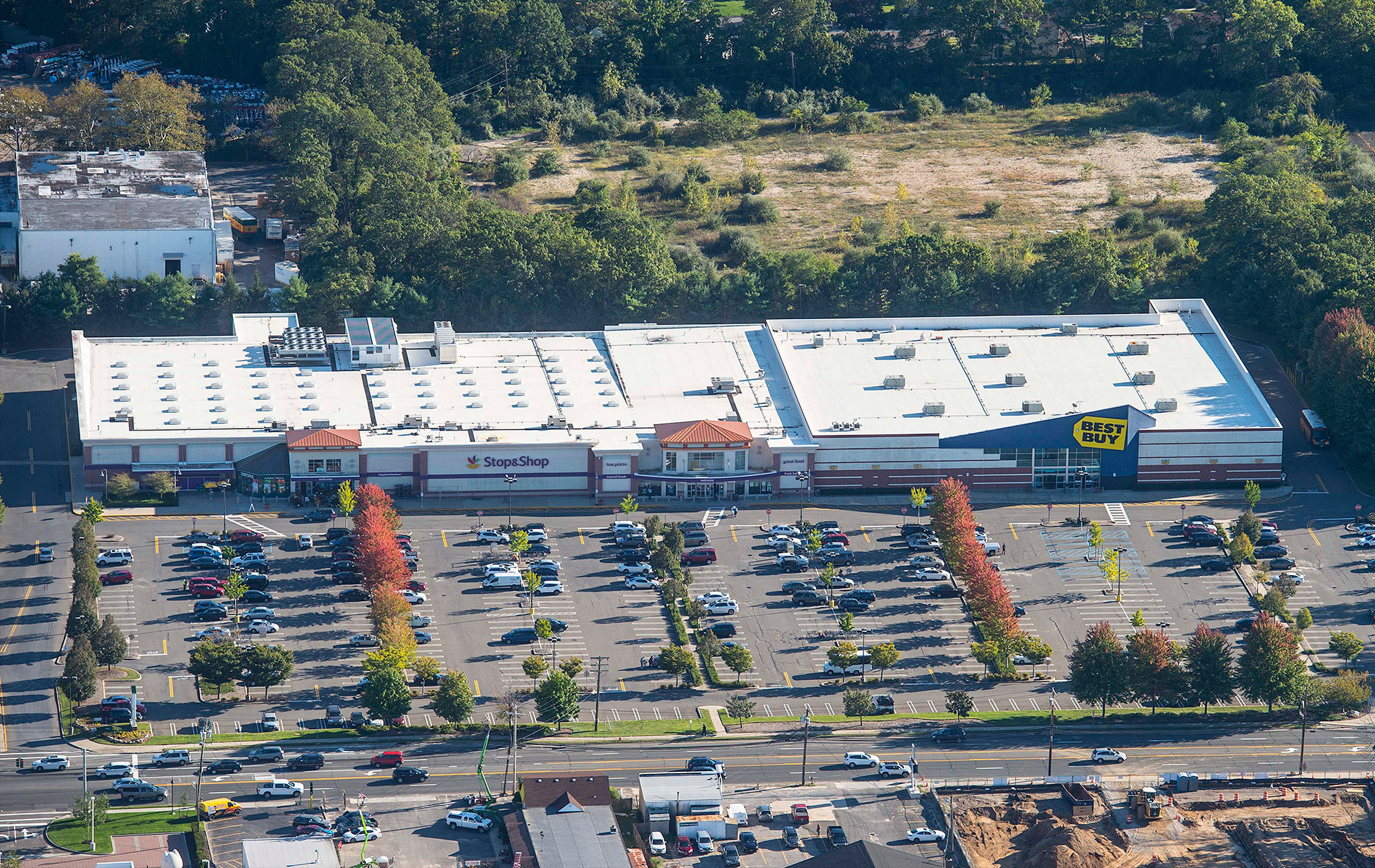 Press Release
Thursday, September 28, 2017
Sterling Organization Acquires 116,221 SF Huntington Square Plaza on Long Island (New York City MSA)
FOR IMMEDIATE RELEASE
September 28, 2017 – PALM BEACH, FL – Sterling Organization, a vertically integrated private equity real estate investment firm, has announced the acquisition of Huntington Square Plaza, a grocery-anchored shopping center on Long Island located at 3124-3126 East Jericho Turnpike in East Northport (Town of Huntington), Suffolk County, NY, approximately 30 miles west of New York City. The asset was purchased on behalf of Sterling Organization's institutional core fund, Sterling United Properties I, LP ("SUP I"), for an undisclosed amount.
Huntington Square Plaza is a 116,221-square-foot shopping center that is 100% occupied and anchored by Stop & Shop and Best Buy.
"We are excited to have had the opportunity to make this investment, which is our first on Long Island. Huntington Square Plaza is anchored by two solidly performing retailers on long term leases, characteristics that fit the investment profile for SUP I," said Ed Senenman, Senior Managing Director of Investments and Portfolio Management for Sterling Organization. "There is no doubt that this is quality real estate, with the trade area surrounding Huntington Square Plaza being densely populated and affluent. The property further features excellent fundamentals with visibility and access along the busy Jericho Turnpike commercial corridor."
"Huntington Square Plaza is, we believe, another nice addition to our core/stabilized SUP I portfolio. We anticipate this asset will generate predictable and stable cash flow during our hold period for our investor partners," added Brian Kosoy, Managing Principal, President and CEO of Sterling Organization.
Huntington Square Plaza was built in 2002. Approximately 75,000 people live within a three-mile radius of the property, where the average annual household income is over $147,000.
The property is Palm Beach, FL-based Sterling Organization's second acquisition in the New York City MSA, and its seventh asset within the SUP I portfolio. The firm and its principals own more than 9 million square feet of retail and other commercial real estate across the U.S. approaching $2 billion in value.
# # #
About Sterling Organization
Sterling Organization is a vertically integrated private equity real estate firm that has an established track record of providing exceptional risk-adjusted returns to its partners, in both relative and absolute terms. The company's national platform is focused on investing in value-add retail real estate assets and stabilized/core grocery-anchored shopping centers in major markets across the United States on behalf of Sterling's principals in partnership with the highest quality institutional investors. Sterling Organization is headquartered in Palm Beach, Florida.
Media Contact: Dana Verhelst, 561-868-2664 or dverhelst@sterlingorganization.com