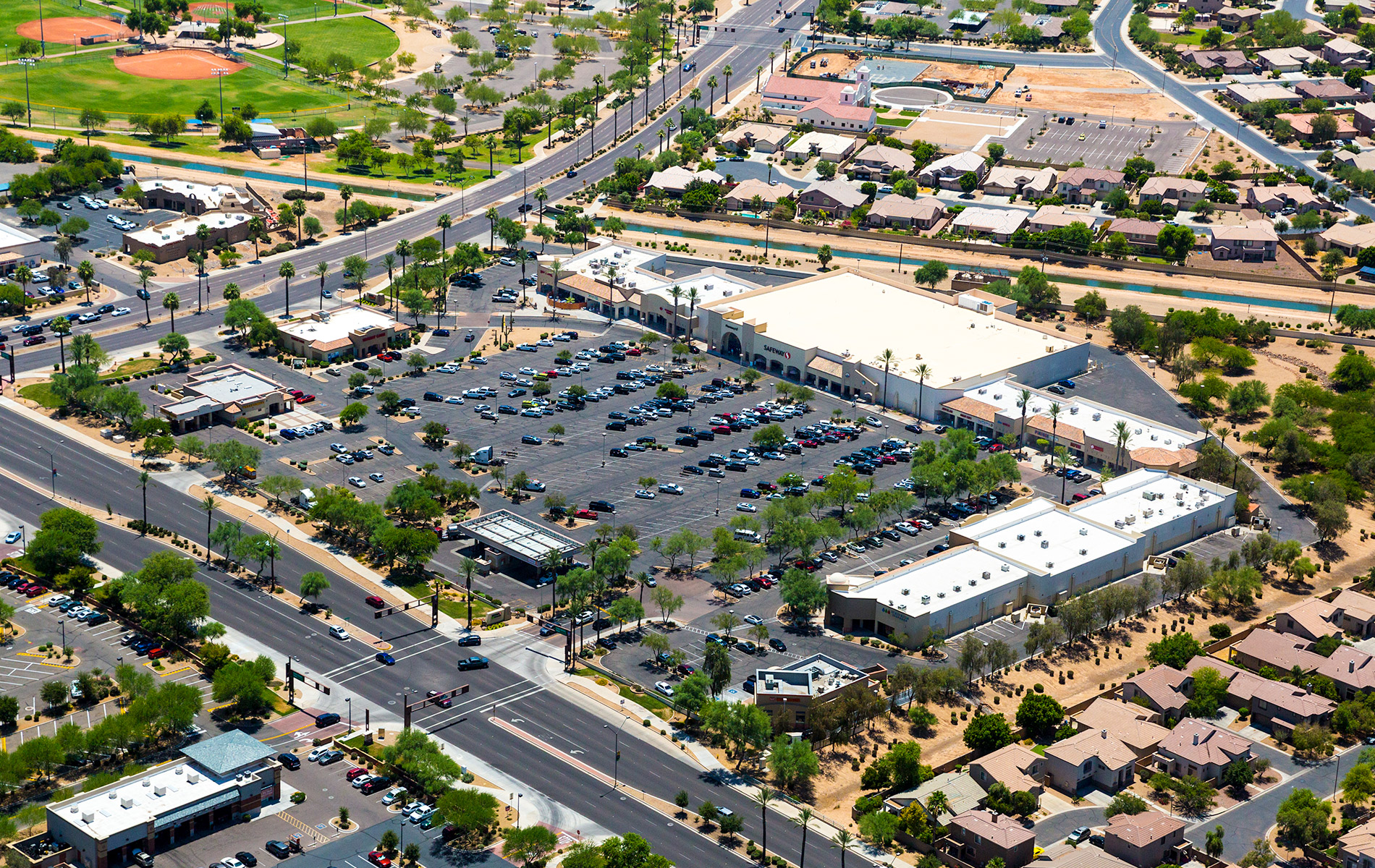 Press Release
Tuesday, June 13, 2017
Sterling Organization Acquires 107,633 SF Palm Valley Marketplace in Phoenix MSA for $22.45 Million
FOR IMMEDIATE RELEASE
June 13, 2017 – LOS ANGELES, CA – Sterling Organization, a vertically integrated private equity real estate investment firm, has announced the acquisition of Palm Valley Marketplace, a grocery-anchored shopping center located at the southwest corner of West Indian School Road and North Litchfield Road in Goodyear, AZ, approximately 16.5 miles west of downtown Phoenix. The asset was purchased from a subsidiary of Regency Centers on behalf of Sterling Organization's institutional core fund, Sterling United Properties I, LP ("SUP"), for $22,450,000.
Palm Valley Marketplace is a 107,633-square-foot shopping center anchored by a highly productive Safeway grocery store. The center is also occupied by national and regional businesses including Subway, H&R Block, Domino's Pizza, AAA, Great Clips, The UPS Store, Nationwide Vision, GNC, FastFrame, Oreck, Elements Massage and PurTone Hearing Centers.
"Palm Valley Marketplace is another solid addition to our Sterling United Properties fund portfolio," said Ed Senenman, Senior Managing Director of Investments and Portfolio Management for Sterling Organization. "Palm Valley Marketplace is in an affluent trade area within the established master-planned residential communities of Palm Valley and Pebble Creek, and has exceptional access and visibility from the area's two primary commercial thoroughfares."
"We anticipate that Palm Valley Marketplace will produce the consistent cash flow our investor partners signed up for when they invested in our Sterling United Properties vehicle," added Brian Kosoy, Managing Principal, President and CEO of Sterling Organization. "Once again, it was a pleasure to work with the always-professional folks at Regency and we feel compelled to thank Michael Hackett and Ryan Schubert at Cushman & Wakefield for facilitating what was a very smooth transaction."
Palm Valley Marketplace was originally constructed in 1996-1997 with an addition in 2000. Safeway is one of the shopping center's original tenants and the grocery store's interior was renovated in 2013. Approximately 70,000 people live within a three-mile radius of the property, where the average annual household income is over $91,000.
The property is Palm Beach, FL-based Sterling Organization's first acquisition in the Phoenix market, and its seventh asset in the western region of the United States in the past year and a half. The firm and its principals own more than 9 million square feet of retail and other commercial real estate across the U.S. approaching $2 billion in value.
# # #
About Sterling Organization
Sterling Organization is a vertically integrated private equity real estate firm that has an established track record of providing exceptional risk-adjusted returns to its partners, in both relative and absolute terms. The company's national platform is focused on investing in value-add retail real estate assets and stabilized/core grocery-anchored shopping centers in major markets across the United States on behalf of Sterling's principals in partnership with the highest quality institutional investors. Sterling Organization is headquartered in Palm Beach, Florida.
Media Contact:
Dana Verhelst, 561-868-2664 or dverhelst@sterlingorganization.com